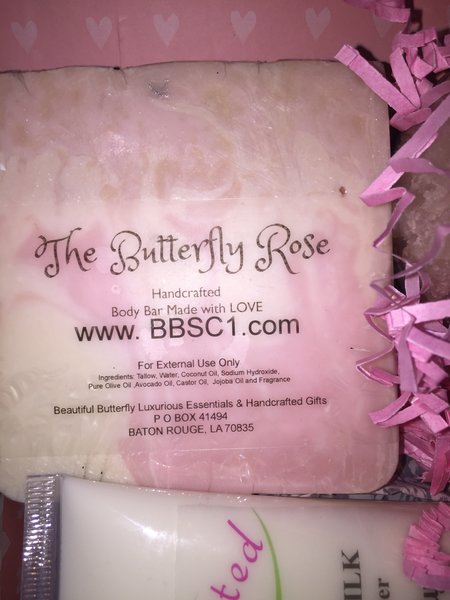 The Butterfly Rose
Body Bar
Net Wt. Approx. 6.00 oz
Our Butterfly rose soap is associated with marriages and new beginnings, and its beautiful fragrance has also made it a classic gesture of grace and elegance. Our Luxurious Butterfly Rose Soap is often given as a token of admiration and appreciation. Whether they're for your best friend, fiancée or a special someone.
Our Luxurious Butterfly Roses Soap is a perfect way to say, "I'm thinking of you."


Ingredients: Tallow, Water, Coconut Oil, Sodium Hydroxide, Extra Virgin Olive Oil, Sunflower Oil, Avocado Oil, Castor Oil, Jojoba Oil, Vitamin E, Stearic Acid.
Directions: Apply to wet skin to achieve desired lather to cleanse the skin. Use a washcloth or some kind of "soap saver" further extend the soap's lather. Keep open soap out of water on a draining soap dish. Store your unused soaps in a cool, dry place. External use only. Keep product out of eyes, ears, nose, and mouth.