SWEET OLIVE - ALL NATURAL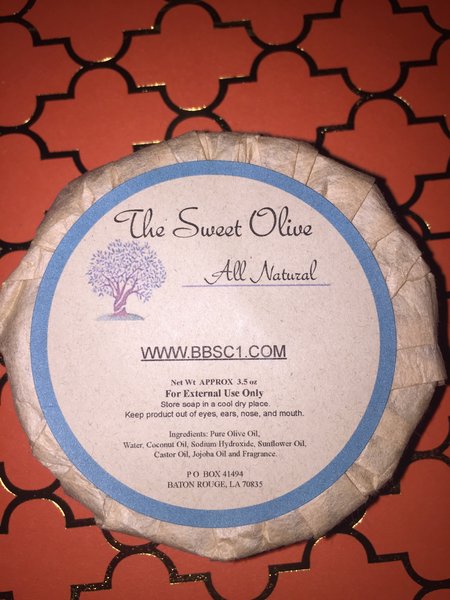 Sweet Olive
All Natural
Vegan Friendly

All Over Body Bar
Unscented

100% Vegetable Based Soap
Net Wt APPROX 3.5 oz

Looking for Healthier, Softer , Smoother Skin?
Our Luxurious Olive Oil Conditioning Soap can Provide you with all the skin care you need from Head to Toe. We use Pure Olive Oil in our special skin conditioning Blend to Give your Body a Lift. Regular use of Our Olive Oil soap can helps reverse and protect skin damage.
Olive Oil : has been in use for many centuries and it used throughout the world. It is commonly used for cleansing the skin, making it firmer and smoother.Olive Oil contains powerful antioxidant, including vitamins E and A. It repairs damage caused by free radicals on the skin.
For External Use Only

Ingredients: Pure Olive Oil, Water, Coconut Oil, Sodium Hydroxide, Sunflower Oil, Castor Oil.
Directions : Apply to wet skin to achieve desired lather. Use a washcloth or some kind of "soap saver" to extend the soap's lather. Store soap in a cool dry place. Keep product out of eyes, ears, nose, and mouth.