Purpose Deeply Nourishing Natural Herbal Shampoo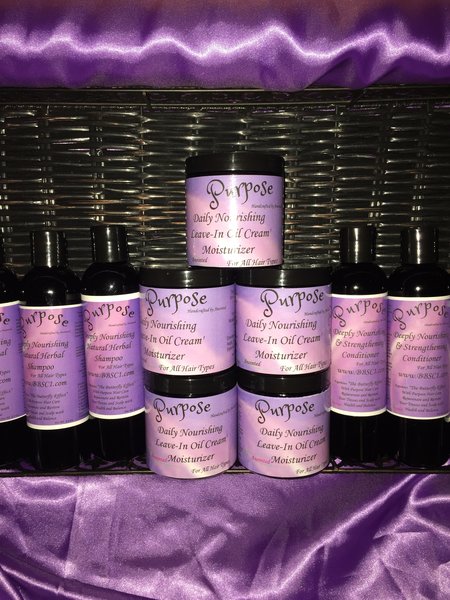 Purpose Deeply Nourishing Natural Herbal Shampoo

Purpose Is an excellent choice for Rejuvenating and Restoring Your Tresses and Scalp with Health and Balance.
This Product is especially formulated to Deeply Nourish, Strengthen and Gently infuse your hair follicles with natural minerals, herbal extracts and oils.
Purpose is Great for Natural Hair and can help address conditions such as Dandruff , Shedding Hair, Scalp Irritation, Thinning Hair , Dry Hair, Chemically Damaged Hair, and Split Ends.

Helps Stimulate Hair and Scalp
1. Shake Well / THIN PRODUCT
DO TO LESS ADDITIVES
2. Wet Hair Than Apply Purpose from end to root.
3. Gently massage Purpose into scalp for 2 to 3 minutes
5. Apply Purpose Deeply Nourishing & Strengthening Conditioner for Best Results
Warning
This is a Natural Product and contains Herbal Extracts. Please consult a physician if you are pregnant or using certain medications
Ingredients: Water, (Olive Oil) Olea europaea, Potassium hydroxide, (Castor Oil) Ricinus communis, (Coconut Oil) Cocos nucifera, (Lanolin),(Cocoa Butter) Mangifera indica,(Jojoba Oil) Simmondsia chinensis, Glycerin, (Grape seed Oil) Vitisvinifera, (Avocado Oil) Persea americana, Cetyl Alcohol, Polyquaternium-7, Cetearyl alcohol, Panthenol, Xanthen Gum, Silk Amino Acids, Phenoxyethanol Benzoic Acid (and) Dehydroacetic Acid , Melaleuca Alternifolia (Tea Tree), Mentha Piperita (Peppermint), Citrus Paradisi (Grapefruit Seed extract), Honey,Green Tea Extract, Horse Tail Extract, Chamomile Extract, Nettle leaf Extract, Marshmallow Root, Vitamin B7 and Vitamin H ( Biotin), Citric Acid, Silk Proteins.
PH Balance 6.5-7