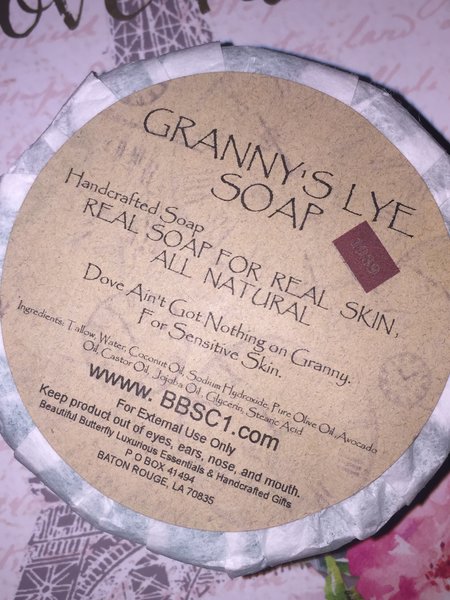 GRANNY'S
REAL SOAP FOR REAL SKIN
Handcrafted
Special Blend
NET WT. APPROX 3.5 OZ
Soothes against insect bites
Lye soap contains natural oils that help alleviate the itching and inflammation caused by insect bites.
2. Moisturizes the skin
Lye soap can also do wonders for your skin especially if you desire to retain that youthful complexion. It acts as a moisturizer, eradicating unsightly
facial
features, blackheads, and sagging cheeks. So, make sure you use lye soap regularly if you desire to keep the signs of aging at bay.
3. Great for acne
Want to eradicate skin blemishes once and for all? Well, lye soap not only moisturizes your skin but also work for all type of skin problems. However, it is neither an antibiotic nor does it contain antibacterial properties, but it does exterminate them, leaving your skin smooth and fair.
4. Soothes Dermatitis
Lye soap can also do wonders for alleviating inflammation of the skin.
Ingredients: Tallow, Water, Coconut Oil, Sodium Hydroxide,
Extra Virgin Olive Oil, Sunflower Oil, Avocado Oil, Castor Oil, Jojoba Oil,
Vitamin E,
Stearic Acid
Important Information
Directions: Apply to wet skin to achieve desired lather to cleanse the skin. Use a washcloth or some kind of "soap saver" further extend the soap's lather. Keep open soap out of water on a draining soap dish. Store your unused soaps in a cool, dry place. External use only. Keep product out of eyes, ears, nose, and mouth.