Beautiful Butterfly Blooming Body Butter Bath Bombs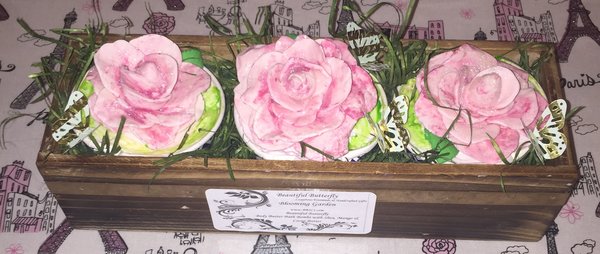 Beautiful Butterfly Blooming Body Butter Bath Bombs Bouquet
Soft & Supple
Three Rose Shaped Bath Bombs Approximately 10oz to 12oz each
Beautiful Butterfly Body Butter Bath Bombs are Full of Skin Loving Shea Butter and Cocoa Butter along with other skin conditioning Oils.
Beautiful Butterfly Body Butter Bath Bombs have the ability to soothe, hydrate and balance your skin with essential fatty acids, which are imperative to maintaining your skin's elasticity and suppleness.

Made To Order Important Information:
Please Allow 3-5 Days Before product will be shipped. Flat Rate shipping fee of $20.00 will be applied (This item is delicate and must be overnighted to Purchaser.)
Important NOTE: The containers in which your product will arrive in will be different from the picture above.
When Ordering this product you are consenting to The Free Will of your Design Consultants Creative Abilities to Make your Product Unique and Amazing.

List of Ingredients that may be incorporated in our Beautiful Butterfly Body Butter Bath Bombs:
Sodium Bicarbonate, Citric Acid, Cornstarch, Coconut Oil, Shea Butter, Cocoa Butter, Grape Seed Oil, Sweet Almond Oil, Castor Oil, Sunflower Oil, Fragrance or Essential Oils.
Call or Text your request to 225-281-7881
Pinkberry,
Butterfly Rose,
Lavender,
Exotic Fruit
Do not forget to ask if Additional fragrances are available at the time of your order.
Masculine Fragrances are available also for Our Man Bombs