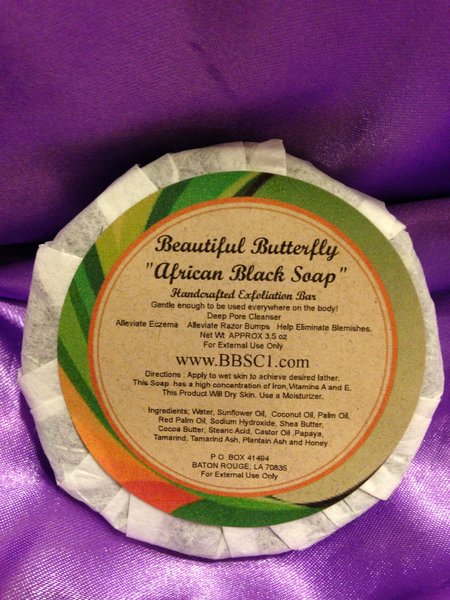 Beautiful Butterfly

African Black Soap
African Black is a Modified Version of the African Black Soap from Ghana.
Exfoliating
Net Wt. Approximately 3.5 oz.
This is our New Version which contains More Natural Vitamin C.
Beautiful Butterfly African Black
Traditional African Black Soap is made with 50% Shea butter and is 100% natural. It is commonly used for cosmetic and health benefits pertaining to the skin. It may be used for the hands, face, body, and even lathered to be used as an effective shampoo. It is known as a natural source of Vitamin A and Vitamin E as well as iron. African Black Soap allows for an all-natural cleansing process and does not contain any synthetic fragrances, color additives, or animal ingredients.

Ingredients; Water, Sunflower Oil, Coconut Oil, Palm Oil, Red Palm Oil, Sodium Hydroxide, Shea Butter, Cocoa Butter, Stearic Acid, Castor Oil, Plantain Ash, Papaya, Tamarind, Honey
Warning: This Product is Exfoliating please use caution when applying to skin.